---
Preston Knights Lacrosse
---
THE FIRST PRESTON HIGH LACROSSE TEAM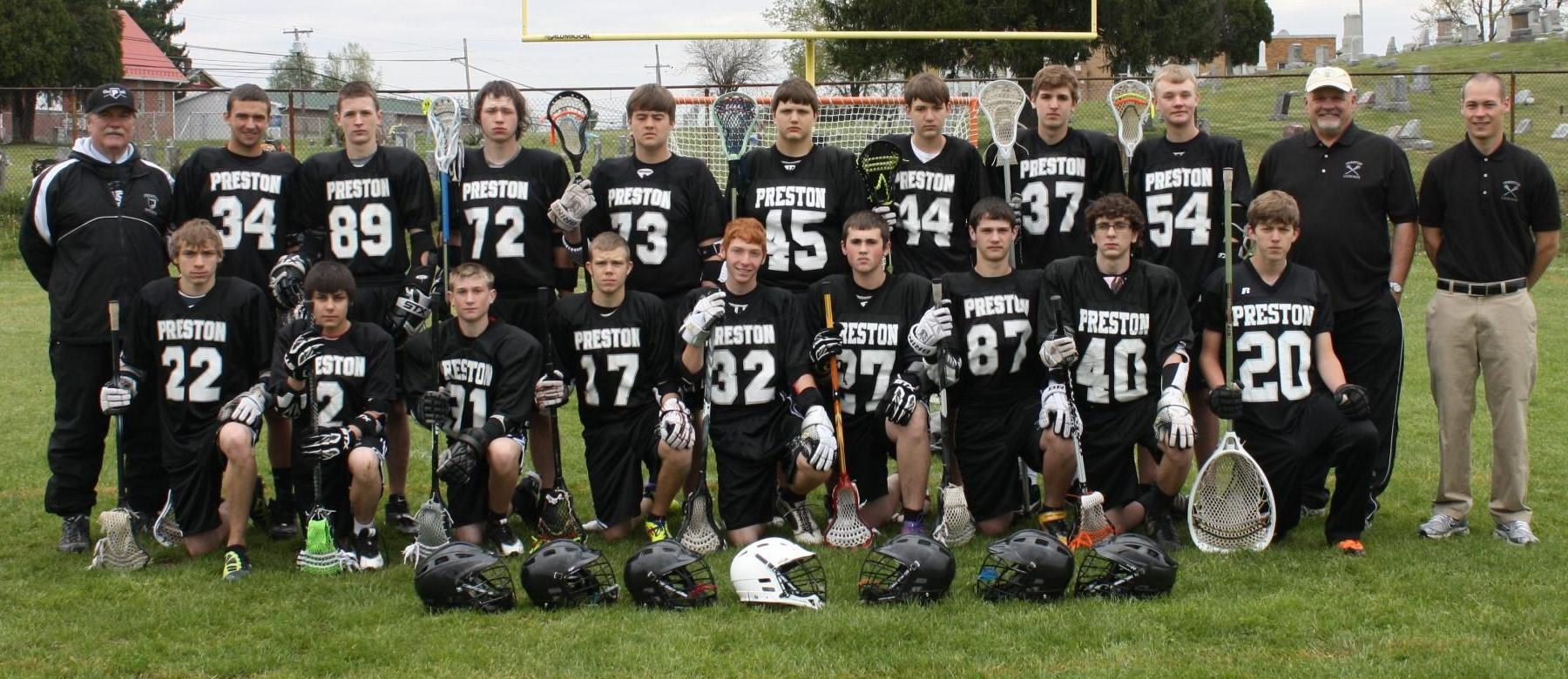 Back Row: Coach Dreisbach, Jon McCabe, Hayden Chadwell, Cody Field, Zac Casteel, T.C. Dalton, Doug Wilson, Dylan Morris, Thomas Swiger, Coach McNeill, Coach LaTorre.
Front Row: J.D. Patterson, Rory Smith, Aaron Barnes, Austin Roscoe, Hunter Kennedy, Kade Anderson, Avery Host, Noah Nichols, Chris Spahr.
---

Relaxin' between games at the Mountain State Meltdown
East West Stadium - 2012

PICS of Wheeling Park game:
Capturingmomentsbycarla.shutterfly.com


Knights Stadium - Ready for the first lacrosse game in 2012
---

PRESTON KNIGHTS 2013 BIG SHOT TOURNEY TEAM

SLIPPERY ROCK, PA - Nov. 3 - Members of the Preston High lacrosse team participated in the 15th annual Big Shot 7v7 Lacrosse Tournament at Slippery Rock University on Sunday. The Knights went 1-5 in the varsity division versus teams from Pittsburgh, Cleveland, and Washington, Pa.. Their lone victory was a 6-3 contest against Pittsburgh's North Hills. Preston had a nail biter with the Trinity Hillers from Washington, Pa. The teams traded goals in the last minute of the game with Trinity coming out on top 9-8.
The tournament was comprised of 10 teams in the Elite Division, 8 in the Varsity, 10 in the JV, and 7 in the Junior High Division. Western Pennsylvania teams made up most of the contestants, but Ohio and West Virginia were well represented. Wheeling Park and Morgantown were the other WVSLA teams. Wheeling Park competed in the JV Division, while Morgantown fielded 2 teams, one in the Varsity Division and one JV.
---
Back to PHS Index Page - WVSLA Front Page - LaxInWV Front Page
---